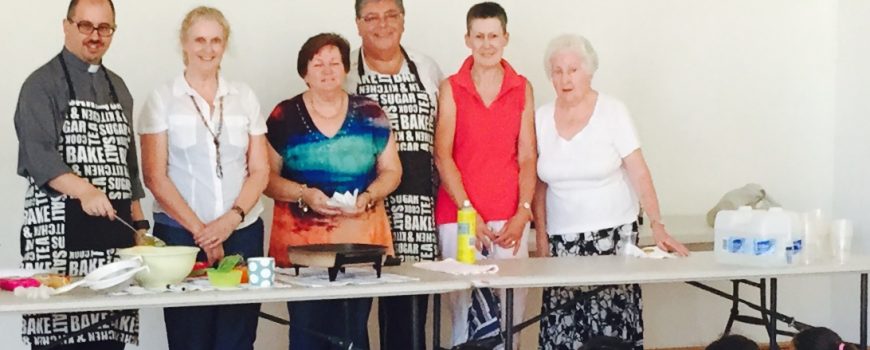 There is a custom that the day before Lent starts pancakes are consumed as a way of cleaning out one's cupboard. Fr Paul, Deacon Frank, Fr Peter and some of our parish Catechists decided to hold a special pancake workshop for grades 3-6 of Regina Coeli School on Tuesday 17 February.
On Sunday 22 February two candidates and three catechumen's participated in the Rite of Election and Presentation at St Mary's cathedral. They were accompanied by Sr Rosemary Mitchell, director of RCIA and Fr Paul Smithers, Administrator. In a moving and prayerful liturgy the Archbishop reminded those to be baptised or received into the Church at[…..]
The school has discussed with me the idea of having a Spring Fair on Friday evening 16 October instead of a Christmas Fair. I have expressed to Mr Egan my desire for the parish to be involved. Therefore, I invite any parishioner interested in being involved to contact me. Why not run a cake stall,[…..]
I would like to invite you to keep Saturday 22nd August free for the Parish Dinner to be held in Club Central Hurstville (Illawarra Catholic Club). The 22nd August is the Feast of Regina Coeli (Mary, Queen of Heaven) This night is an important opportunity to socially gather as a faith community and to celebrate[…..]
Regina Coeli School celebrated the parish Feast Day on Friday 21 August starting with Mass and a fun day at a nearby park. At the conclusion of Mass Mrs Janice Haydon, from the Catholic Education Office, presented Mr Chris Egan and Fr Paul Smithers a certificate of compliance to the Archbishops Charter for Catholic Schools.